Budgetary Statements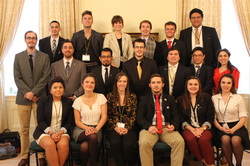 The Secretariat for Administration and Finance has NO written resolution requirement. SAF delegates will be expected to submit a Budgetary Statement at the same time other delegates submit their resolutions, and will be expected to create, together, a Joint Declaration during the conference itself.

The Budgetary Statement will be a justification for why each of the delegation's assigned resolutions should receive funding from the SAF. The Joint Declaration will be a consensus statement on what the committee considers (and does not consider) a budgetary priority for the coming year. After crafting the Joint Declaration, the SAF committee will shift to debate funding on resolutions that have passed through the other four committees in the previous model. The committee will be limited to a certain number of resolutions from other committees they will be allowed to fund.

NEW THIS YEAR: SAF Delegates will be defending and debating the resolutions passed LAST YEAR. SAF delegates will be assigned a packet of resolutions that they are responsible for defending. These resolutions will be received and posted October 8, giving teams a month to craft an agenda, as only 25% of the total resolutions from last year will be allowed to be funded.

Budgetary Statements should follow the format included below. They will be due at the same time as the resolutions, and should be submitted with them. They will be uploaded to this page, however, instead of with the other resolutions, so other SAF delegates may review them.

Additionally, information about how the Joint Declaration will be debated and written will be found below.
---
Downloads Regarding Budgetary Statements and the SAF Joint Declaration
SAF Committee Resolution Packets for Each Delegation Below:
Click the Badge Below to Download Your Country's SAF Committee Resolution Packet
2017 ESMOAS Approved Budgetary Statements