Supporting the ESMOAS Program
The Eugene Scassa Mock OAS has positively affected nearly 3,000 students from universities across Texas, Oklahoma, New Mexico, Louisiana, Ohio, Kansas, and Mexico over the past eighteen years. Continuing to create positive experiences while teaching the importance of U.S./Latin American relations at such a low cost to our participating students is the cornerstone of our program. It depends on the generosity of volunteers and corporations' logistical and financial support.

As an ESMOAS corporate sponsor, you are helping to fund a program with nearly two decades' history of bringing the nation's best and brightest college students together in the interest of issues facing the U.S., Canada, the Caribbean, and Latin America. Thank you for considering support of this valuable organization. By investing in our students, you are investing in the future of diplomacy in our hemisphere.
---
Ways you can support the program:

Conference Sponsorships
Conference Sponsor $250
Cornerstone Sponsor $500
Conference Underwriter $1000

Conference and Cornerstone sponsors will be recognized on the organization's website, receive a letter of thanks from the ESMOAS program staff, and an invitation to attend either the conference or the awards dinner as an honored and officially recognized guest. Underwriters will also be recognized in a press release and will receive a plaque of recognition, as well as optional naming rights. Contributions from any of these sponsorships are deposited into the ESMOAS administrative fund and included in the budget released by the program at the end of the year.
---
Individual Event Sponsorship Opportunities
Awards Reception Sponsor $1500
The reception will be presented with your name, and the sponsor will be recognized during the
reception, in addition to receiving a plaque and an opportunity to speak and/or recruit before
or during the reception. Your donation will go directly to funding the awards dinner.
---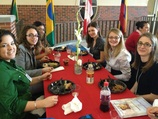 Faculty or Student Luncheon Sponsor $500
The luncheon will be presented with your name, and the sponsor will be recognized during the
luncheon and during the Steering Committee meeting normally held during the luncheon.
Also, your company will receive a letter of thanks from our Steering Committee. Your
donation will be applied either to the faculty or student luncheon catering.
---
Program of Events Sponsor $250
The official printed program will be printed with your name and logo on a sponsorship page.
Your company will also receive a letter of thanks from our Steering Committee. Your
donation will assist the ESMOAS staff in the printing costs associated with the conference.

---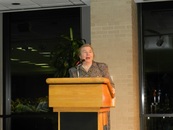 Keynote Speaker Sponsorship $350
Your company will be recognized in the program as the sponsor of the keynote address, and
you will have the opportunity to attend the awards reception and/or present the keynote
speaker in person. Additionally, you will receive a letter of thanks from our Steering
Committee. Your donation will cover either lodging or transportation for our keynote
speaker.
---
Other Sponsorship Opportunities
Sponsor a Specific Team: We will provide you the contact information for a team from your area or from an institution you would like to help sponsor. Sponsorship donations will vary depending on needs and your wishes.

Become an Official ESMOAS Hotel: Either by donation or by offering a special rate to ESMOAS participating schools, you can be added to our list of recommended hotels or have a reservation link attached directly to our registration page.

Become a Recommended ESMOAS Restaurant: Purchase an ad in our program or have your name, phone number, and menu suggestions added to the program.
Note: The ESMOAS is a not-for-profit academic consortium executed and overseen by a committee of volunteer faculty from participating institutions. Though the ESMOAS is in the process of non-profit organizational incorporation, it is not yet officially recognized as a 501(c) nonprofit organization. Our organizational documents, including W-9 forms and budgets, are on file with the office, however, and may be requested at any time from our coordinating office at
moascentral@gmail.com
.