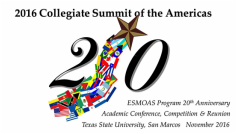 The 20th Eugene Scassa Mock Organization of American States Conference will be held November 3-5, 2016 at Texas State University in San Marcos, Texas. This year, the conference will consist of four parts. The traditional ESMOAS simulation will be the Summit of the Americas. A new moot court competition, a new academic conference, and a 20th anniversary reunion will be held concurrently.

Please click on any of the items below for more information.

---
---
Important Announcements:


Registration for ALL Conference sessions (Summit of the Americas, IACHR, and Academic Conference) is now OPEN. Early registration for the Summit (priority country assignments) ends July 22.

Payments for the Academic Conference and the Alumni dinner tickets are now being accepted.