The Eugene Scassa Mock OAS Program & Conferences
Celebrating our 26th annual Collegiate Summit of the Americas Conference and our 28th year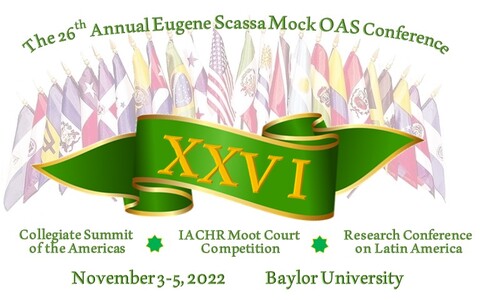 Learn More About...

Current Announcements

Thank you for attending and being a part of the 25th Annual ESMOAS Conference!

Plans for the 2022 ESMOAS Conference and the Parliamentary Workshop are already well under way.

The ESMOAS Conference (including the Model Summit of the Americas, the IACHR Moot Court Competition, and the ESMOAS Academic Conference on Latin America), will be held November 3-5 at Baylor University in Waco, Texas. The Parliamentary Workshop has been set for Saturday, October 1, 2022 at Angelo State University in San Angelo, Texas.​
---
The Components of the ESMOAS Conference
Summit of the Americas Competition

The Summit of the Americas competition is comprised of teams from universities in the United States, Mexico, and the Caribbean who represent assigned member states of the OAS in a model-UN style format. Each team of 4-7 students represents one country across four topical committees. Students submit and debate resolutions on assigned topics, and deal with a hypothetical crisis scenario. General Committee delegates have the opportunity to emulate their country's head of state in a mock Summit of the Americas meeting.

IACHR Moot Court Competition

The IACHR Moot Court competition pits teams of two students each against each other in a moot court format. Student teams represent both the State and the Petitioner side in separate hearings in front of a panel of judges. They must try a hypothetical human rights case similar to those heard in the Inter-American Court of Human Rights, and submit written legal memorials and oral arguments. The competition begins with oral arguments presented online to a panel of judges one week before the conference. This seeds a double-elimination tournament held during the Conference.

Academic Conference on International Relations & Latin America

The ESMOAS Academic Conference on International Relations is open to all faculty, graduate students, and undergraduate students to present papers in a traditional academic conference format. Panels on all aspects of international relations and on specific topics pertinent to Latin America are held throughout the weekend. Publication of the proceedings with respected academic publishers is routine, and panels are open to all participants. A remote participation option via Zoom is provided the week following the conference.