Important Announcements:

The deadline for submitting Team Position Papers for the Summit of the Americas competition is October 21. Please submit papers to moascentral@gmail.com. Papers will be posted the following weekend.
Resolutions (Summit) and Memorials (IACHR) will be due OCTOBER 26TH before midnight. Submit your resolutions, your budgetary statement, and the RESOLUTION SUBMISSION FORM (located at http://esmoas.org/resolutions.html) together to moascentral@gmail.com. Submit your memorials together (both petitioner and state) to moascentral@gmail.com. Resolutions that have been approved for debate will be posted the Monday of conference week. Memorials will be exchanged and posted on Thursday, November 3rd. Please print yourself a hard copy (for signatures) of your resolution, or a hard copy of your memorial.
​Registration for the Summit of the Americas, IACHR Moot Court Competition, and Academic Conference on Inter-American Relations is closed. Please make payment arrangements for IACHR and the Academic Conference ASAP--Summit payment is due at the conference registration. To pay early online, please contact moascentral@gmail.com.
Registration for alumni attending the Thursday evening reception or Saturday Awards Gala is now closed. If you still wish to attend the conference, but not the gala or reception, please let us know at moascentral@gmail.com so we can have your credentials ready.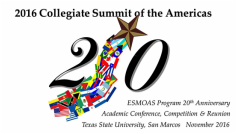 The 20th Eugene Scassa Mock Organization of American States Conference will be held November 3-5, 2016 at Texas State University in San Marcos, Texas. This year, the conference will consist of four parts. The traditional ESMOAS simulation will be the Summit of the Americas. A new moot court competition, a new academic conference, and a 20th anniversary reunion will be held concurrently.

Please click on any of the items below for more information.

---
---