Important Announcements:

Thank you to Concordia University Texas for another fabulous Parliamentary Procedures Workshop!
The IACHR Moot Court Competition has released the hypothetical case. The clarification period has begun and will last for two weeks, beginning on Tuesday, September 27th. All registration for IACHR must be completed by October 7! Payment can be made either online via credit card or at registration via check or cash only.
Late Registration for ESMOAS Summit of the Americas lasts until October 7th.
Payment for the Academic Conference on Inter-American Relations should be made by October 7th, and can be done online under the "Payment" section.
Alumni attending this year's reunion may attend any session free of charge, but the Saturday night dinner and awards gala or Thursday night ambassador's reception will require a ticket, which can be purchased online under "Payment Page".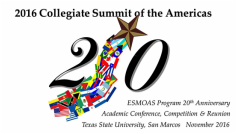 The 20th Eugene Scassa Mock Organization of American States Conference will be held November 3-5, 2016 at Texas State University in San Marcos, Texas. This year, the conference will consist of four parts. The traditional ESMOAS simulation will be the Summit of the Americas. A new moot court competition, a new academic conference, and a 20th anniversary reunion will be held concurrently.

Please click on any of the items below for more information.

---
---